WHERE SHOULD I SETUP MY LOTTO? (map courtesy of freewebs.com)
Yesterday, an old friend of mine who also happens to be a lotto operator for a fellow-lotto agent visited my lotto outlet accompanied by her husband, who also happens to be a lotto operator too & their granddaughter.
While her husband was lining up to bet at my lotto outlet, i got to talk to the Mrs and she narrated that both her husband and herself have been out of a job for the last 3 months.
They used to be working as a husband-wife team for the same lotto outlet in Bulacan. Because sales was very low & after having been hit by a disastrous flood during typhoon Ondoy, the lotto agent decided to transfer the lotto outlet to another site north of Manila.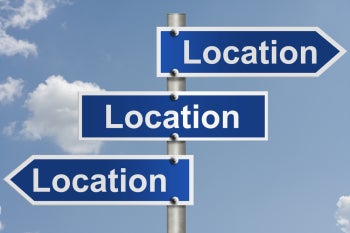 YOU NEED TO STUDY YOUR LOCATION FIRST !!!!(Image courtesy of pcworld.com)
Alas, sales was still low (maybe P3,000 to P5,000 a day or a daily commission of only P150/day before taxes). Apparently, there are many lotto outlets in the area and the volume of business could not sustain such a number of nearby lotto outlets.
And so, the owner is planning to transfer again the lotto outlet but in the meantime, I think, the lotto operators had to be let go.
And yet, another friend of mine, also a lotto agent, is still busy setting-up one lotto outlet after another and all of them, according to my lotto operator-friend, are doing very well.
You still need to do you your assignment (study the location very well) and just locating near any lotto outlet that seems to be doing well. (THAT'S THE SARI-SARI STORE MENTALITY)
By the way, I would like to invite you to visit my Sulit Homepage as there are some business opportunities that you guys might be able to help me out with. If you are interested, just click the Sulit Logo below:
By the way, I am conducting a One-on-One Consultation on How to Setup and Operate Your Own Lotto Outlet. Topics include How to Evaluate a Site for Lotto, The Proper Way to Apply with the PCSO, Actual Operations, How to Prevent Fraud, How to Compete Against Other Lotto Outlets and many more. Please allot at least 2 hours for each session. My fee is only P2,000 per person (Group discount available). Just text me your full name and "Lotto Setup" to 0922-8831225 for details.
Acquiring a Lotto outlet is a lot cheaper than purchasing a Franchise from Zagu (P320,000) or Siomai House (P250,000) and it is simple to operate.
Latest news: PCSO has lowered the Cash Bond requirement and an individual is now allowed to own 3 lotto outlets.